Delaware Valley Reef Club
Tank of the Quarter
2nd Quarter 2012
Dan Horne aka Chinch Bug
First, I would like to thank the board for asking me to be the first Tank of the Quarter. It is quite an honor to be selected considering three years ago I did not know the difference between sps and lps. As the first TOTQ, I created a format that I hope can be used for all future TOTQ.
Full Tank Shots – Viewable from both Sides

Bar View Full Tank Shot

Office View Full Tank Shot
My History of Keeping Tanks
I started keeping tanks when I was ten and at one time had twenty different aquariums lining my bedroom as a child. All using the air-stone corner overflow filters. Some fish, some turtles, my favorite being a Silver Arowana that grew from 3 inches to well over a foot before I sold him to a pet store in Wilmington. More than once he jumped out of the tank and I was scrambling to grab him as he jumped around on the floor.
As a teen I went with a friend to World Wide Aquarium in Chesterbrook where they had a large saltwater section and I decided to give it a try.
My first tank was a small 30 gallon with a variety of small fish like coral cats (Does anyone even buy these anymore?). After college I decided to move up and bought a 150 gallon with 5500k MH lights and VHO supplemental. This tank was mostly LPS and softies but really was a great looking tank. Although the tank was upstairs all the filtration was in the basement in 5 or 6 Rubbermaid filled with sand and liverock. The skimmer was a top of the line Albert Theil Venturi skimmer which I still have although I do not currently use. The live rock for this tank was collected from the Florida Keys by a buddy of mine and me back in the early 90's. We drove down in a truck with snorkel gear. Loaded the truck with rock and water and drove through the night to have the rock back in the aquarium within 20 hours. To say this rock was teaming with life would be an understatement, Crabs, mussels, worms, coral, shrimp and even a small Octopus. The rock also had a ton of mantis shrimp which we thought were bad so we killed them all. At the time we did not realize you could not collect rock in Florida we just saw it as a cool three day adventure.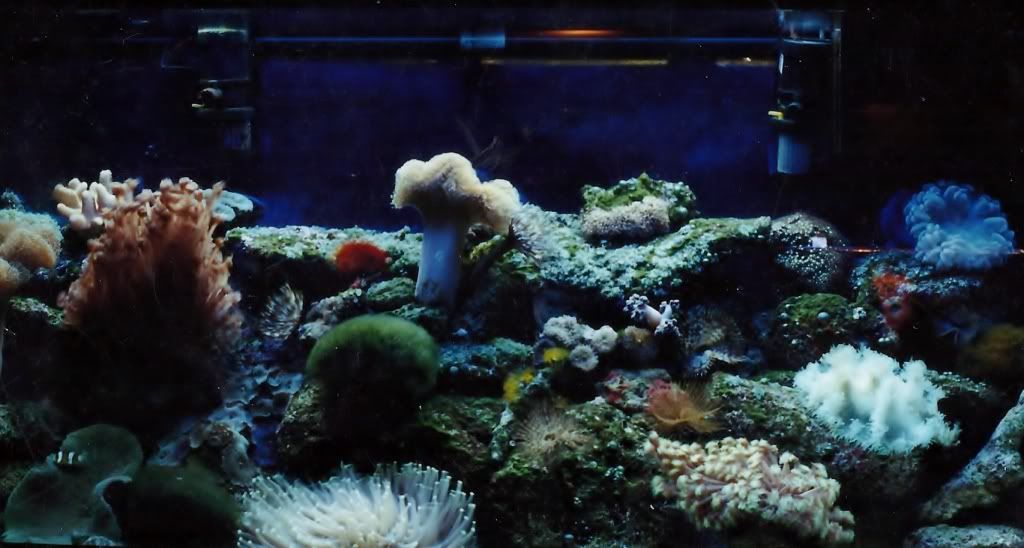 This is a picture of my 150 gallon tank in 1992
I had this tank until I moved to Ohio in 1998. I moved back to PA in 2000 and set-up a 260 gallon in wall FOWLR tank. I moved from this house in 2004 and the guy who bought the house wanted the tank.
I did not have any tank from 2004 until 2009 when I decided to get a 72 gallon tank to see if I would enjoy it again. I also kept passing Derek's house and seeing the annoying blue light coming out of his living room. I was jogging by one day and Derek was outside loading his kids up. I stopped to talk with him and he told me about DVRC and I joined the next day.
My current tank
I began an upgrade at the end of 2009 to put a 180 gallon tank between my bar area and my office. The tank was going to be viewable from both sides with the overflow at one end. The woodwork surrounding the tank on both sides was of particular concern as I wanted the tank to look like a piece of furniture within both rooms. I wanted a single tank that when viewed or photographed from each side appeared to be two different tanks. Thus different types of wood were used on each side. Cherry was used on the bar side and oak was used on the office side.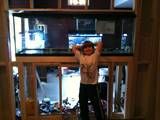 My son standing in front of tank framing
Skinning the wall
Almost finished the bar side
Finished Office Side – Third Month of Operation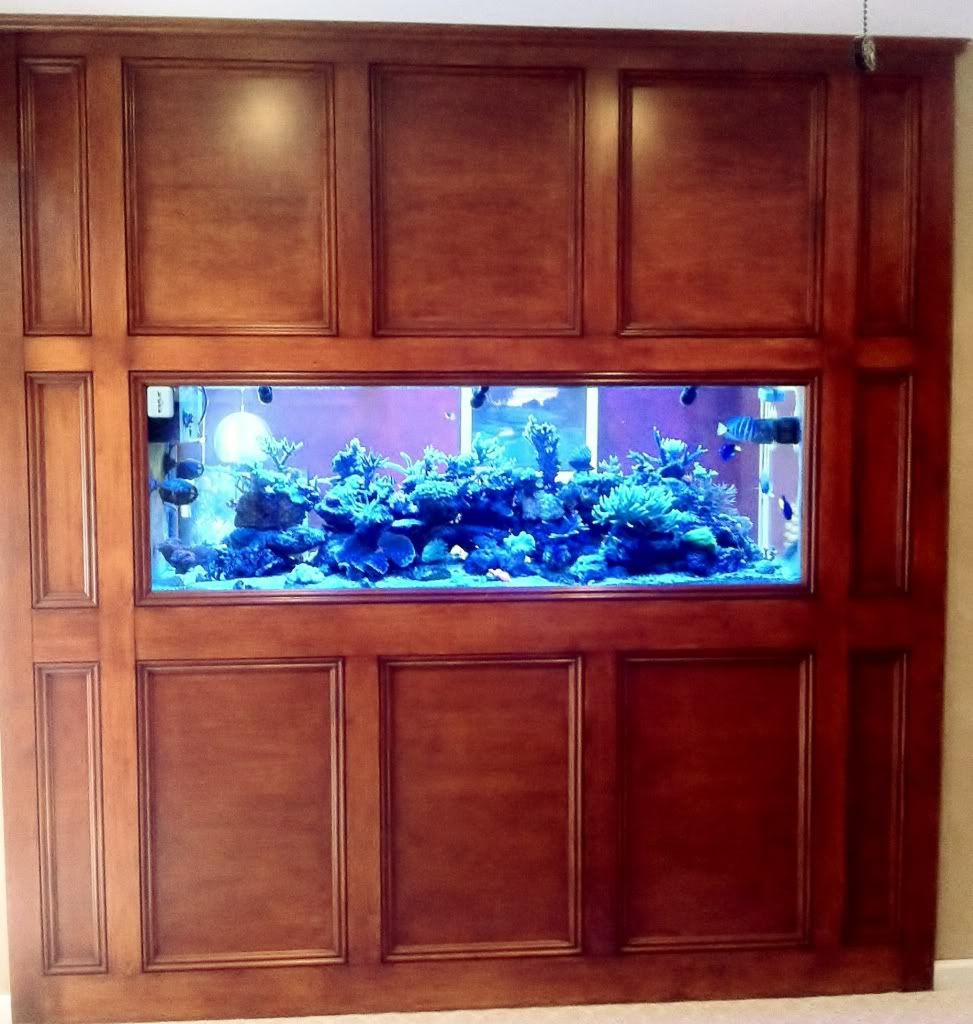 Finished Bar Side around Six Months of Operation
Lighting is three 250 watt Phoenix bulbs in Lumenmax reflectors with two 72 inch VHO Super Actinics for supplemental. This combination seems to have worked the best for me over time. I have tried LED's (AI SOL blue and the Chinese LEDs and liked them but prefer the look of halides in my tank. I did love the sunrise/sunset ability of the AI Sol's though, very dramatic. Actinics run about 12 hours per day and the Halides are on about 8 hours.
Protein Skimmer is the Vertex Alpha 250. Skimmer was pulling so much crud out of my tank that I needed to run a drain line outside my house so the cup would not overflow my collection container.
My auto top off is a gravity fed float valve that connects to a 135 gallon stock tank located in a back room of my basement. I ran the lines for it under my basement carpet and nobody including my wife has ever questioned it. I add a small amount of kalkwasser to the top off water and have a small Maxijet 1200 running in it at all times.
Circulation is provided by a Reeflo Wahoo pump and two MP40 on either side of the tank. I was limited in my configuration due to the need to have the front and back glass free of pumps/obstructions. I plumbed the Wahoo into three returns that drop down into the front top of the tank.
Alkalinity is maintained using a GEO 618 that I bought from Mary. I credit this with stabilizing my alkalinity so that my corals started to color up. I do seem to burn relatively quickly through the media in the reactor having to refill it every six months. I have five clams that have grown quickly so I figured this may not be too unusual. I include Neomag in the chamber to maintain the magnesium.
Water Changes are done twice a month usually about 30 gallons. If I notice anything unusual in the tank or corals just not looking right I will always complete a water change within 24 hours. I feel that when in doubt water changes are your best option although you need to insure that your replacement water is pure or you are just adding impurities that will need to be filtered out.
I have a Digital Aquatics Reef Keeper Elite for Control. I can't say it's the best but I understand how to program it which can be half the battle. My most negative comment about the Elite is that it does not supply a wireless internet adapter which costs peanuts nowadays and forces you to hardwire it. That said I can't get the internet to work even hardwired. Should be plug and play.
Livestock is as follows:
Fish
Powder Blue Tang
Hippo/Regal Tang
Purple Tang
Sailfin Tang
Meleagris Leopard Wrasse
Potters Leopard Wrasse
Kuiters Leopard Wrasse
Ornate Leopard Wrasse
Yellow Coris Wrasse
2 Occellaris Clowns
2 Bangai Cardinals
Black Sailfin Blenny
Blue Spotted Goby
Green Spot Mandarin
One eyed Canary Blenny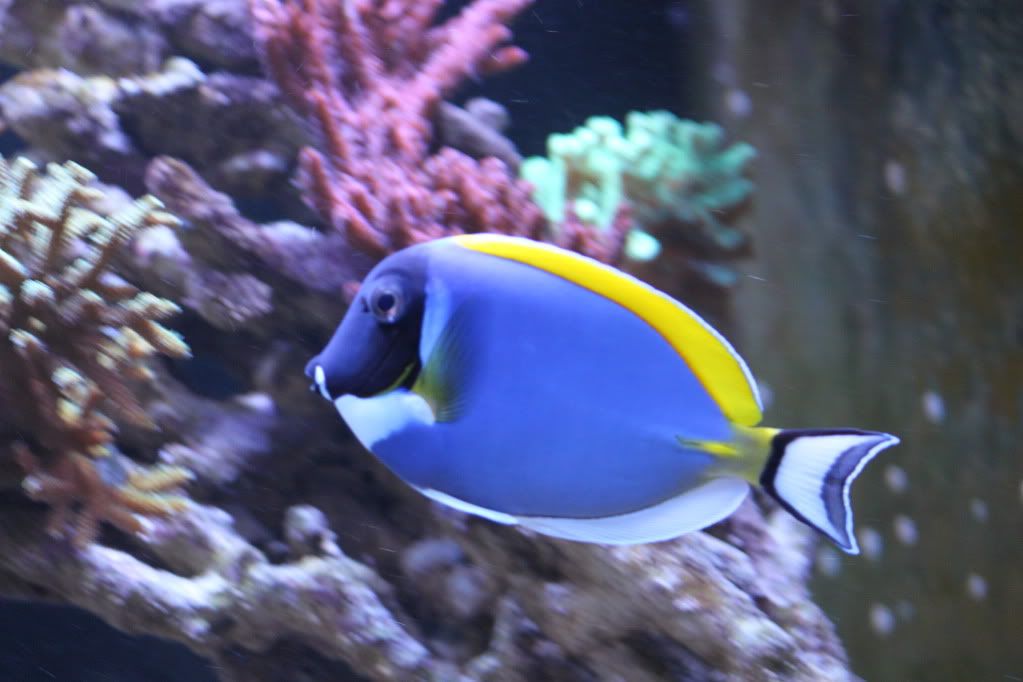 Powder Blue Tang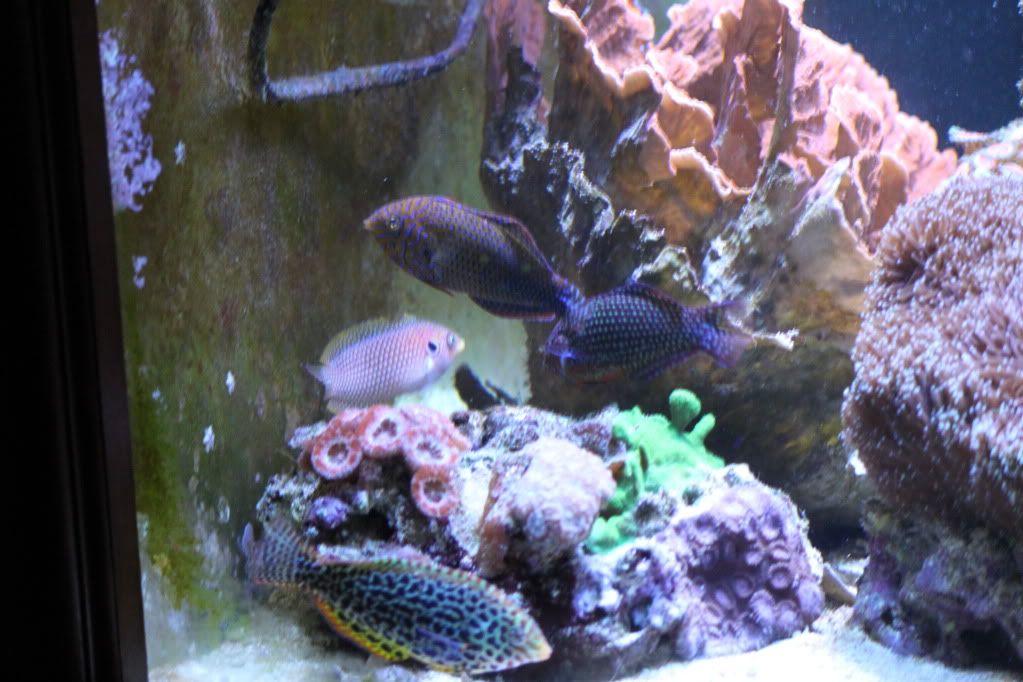 All four Leopards in Food feeding area.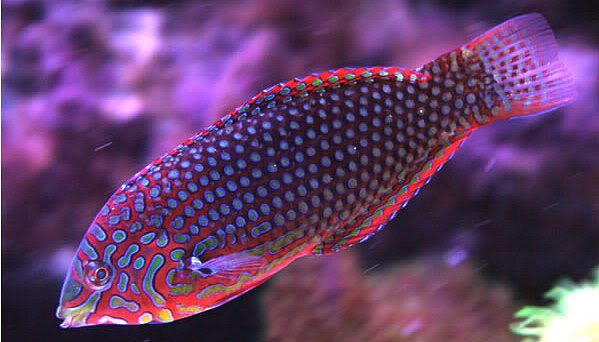 Close-up of Ornate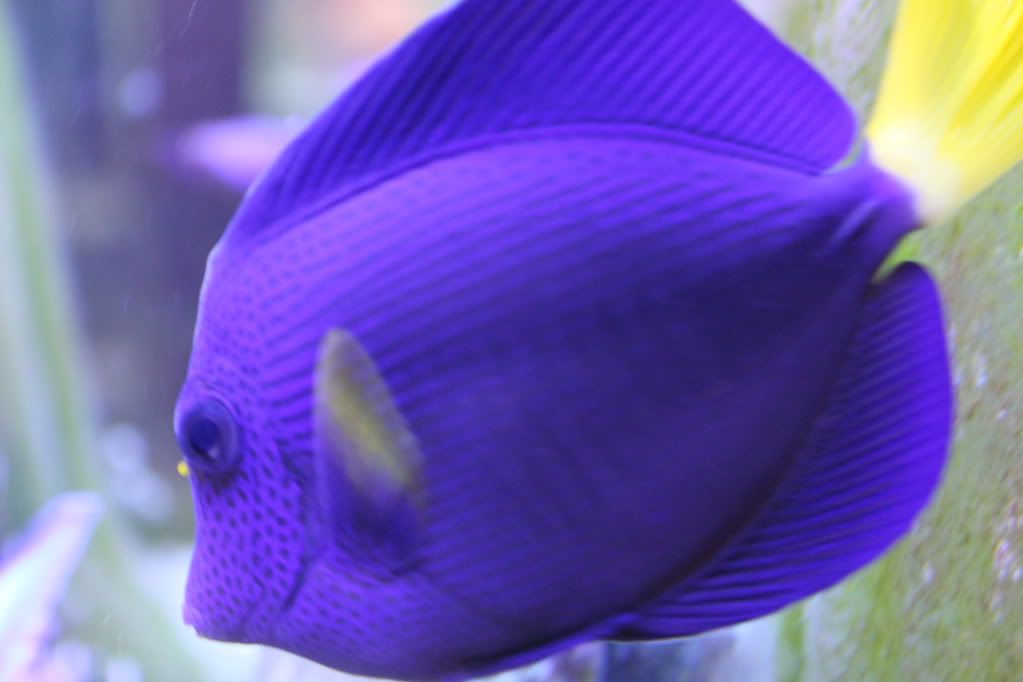 Purple Tang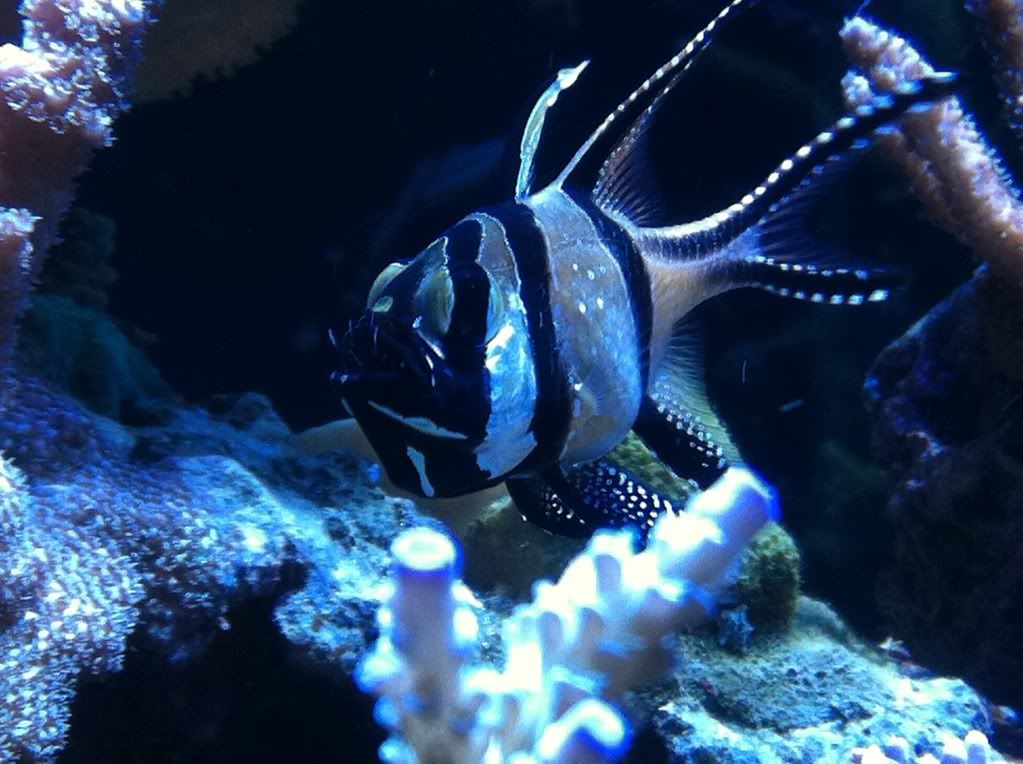 Male Bangai with Babies in Mouth
Bangai Babies
Invertebrates
1 – Blood Shrimp
2 – Red Striped Cleaner Shrimp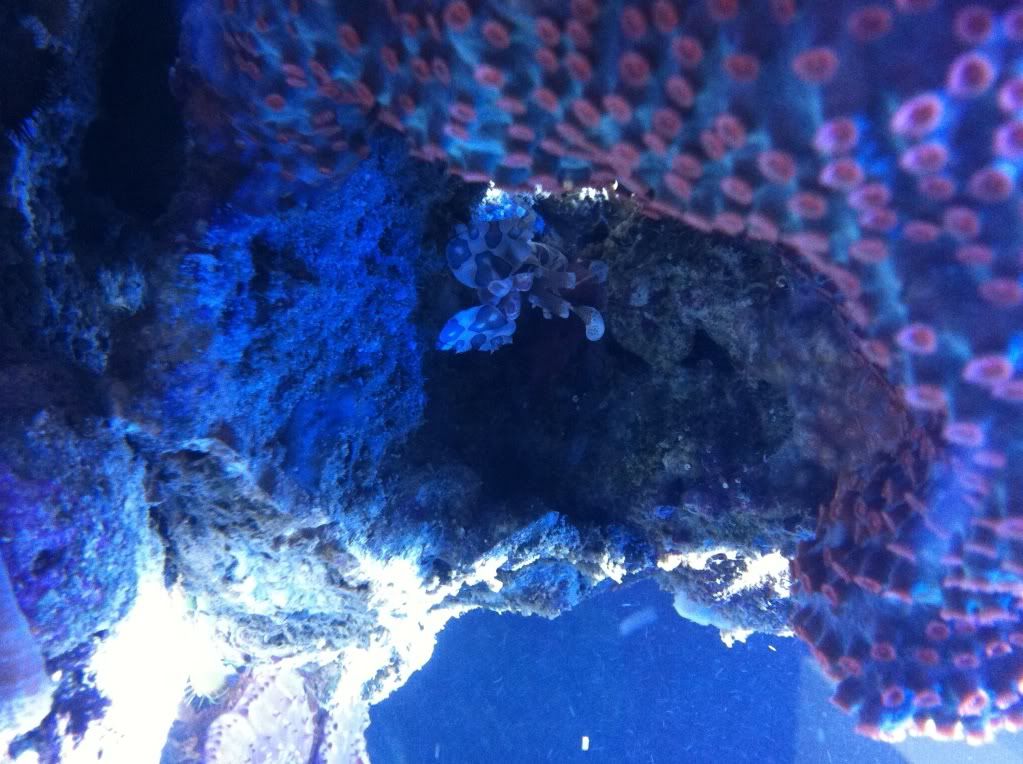 1 – Harlequin Shrimp
3 – Aiptasia Eating Peppermint shrimp
7 Tiger Conch's
I have too many species of sps, lps and zoas in the tank to name them all. I have five clams – 2 Maxima, a Derasa, a Crocea and a Squamosa. The Squamosa is by far my favorite due to the large amount of mantle it displays as well as the cool growth pattern on the shell. Here are some miscellaneous pictures of the corals, clams and livestock.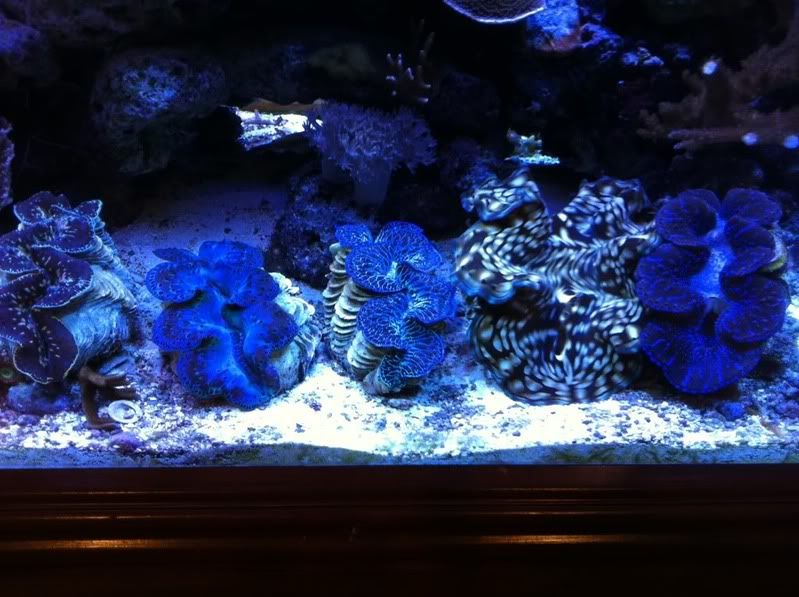 Clams – This is an outdated picture that includes some if Derek's clams
Pearlberry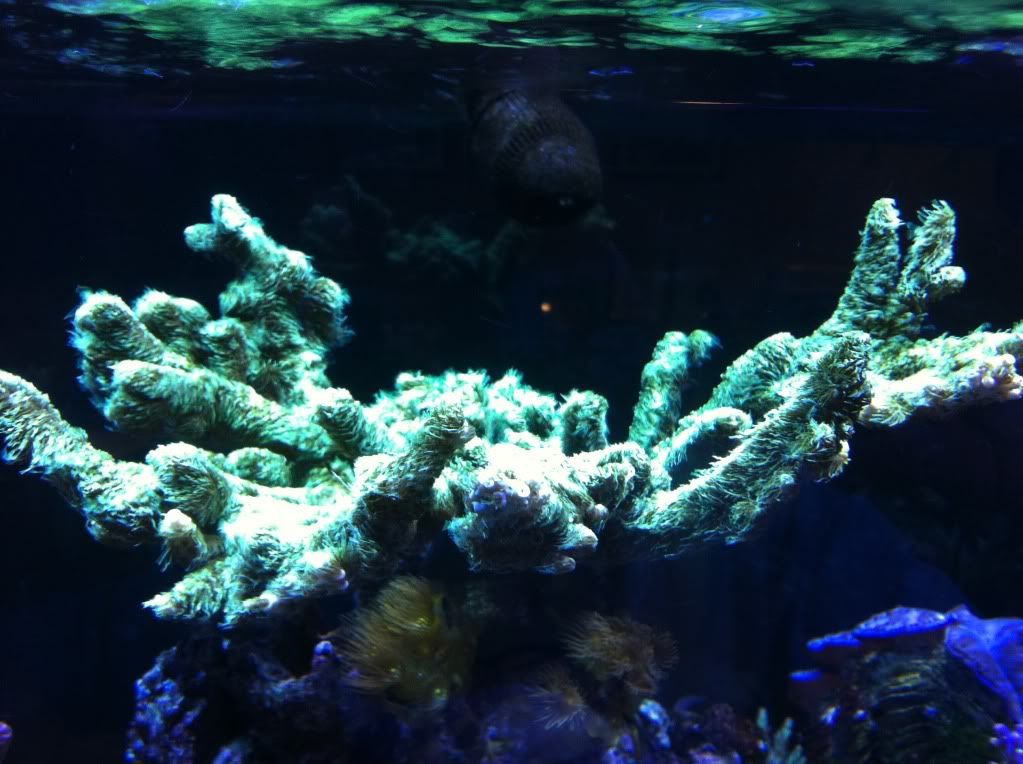 Glow in Dark Milli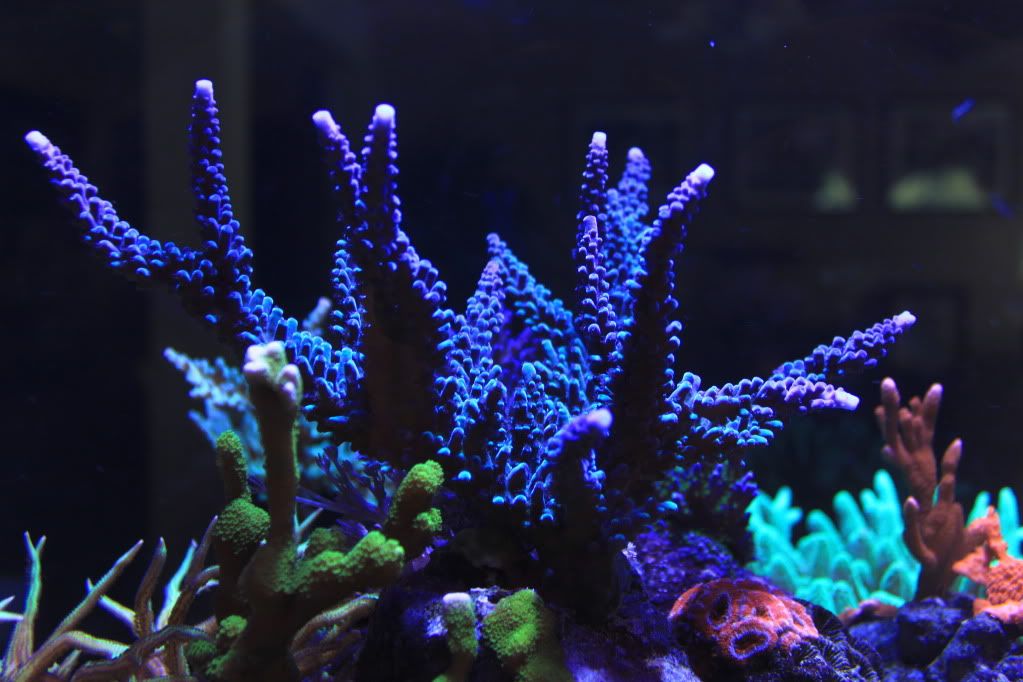 Blue Tort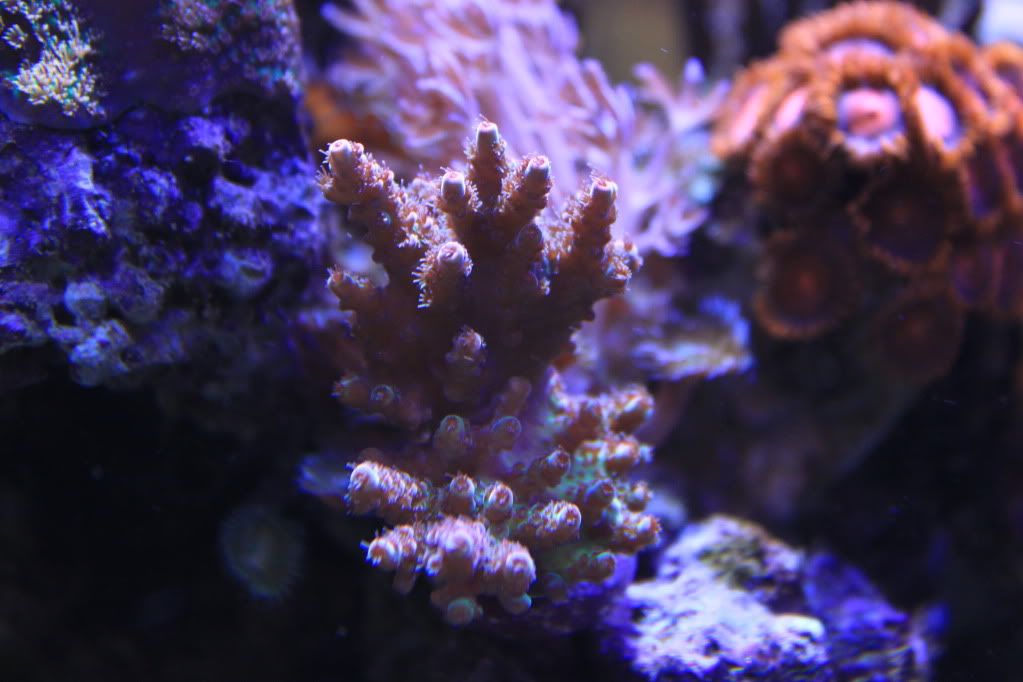 Pink Milli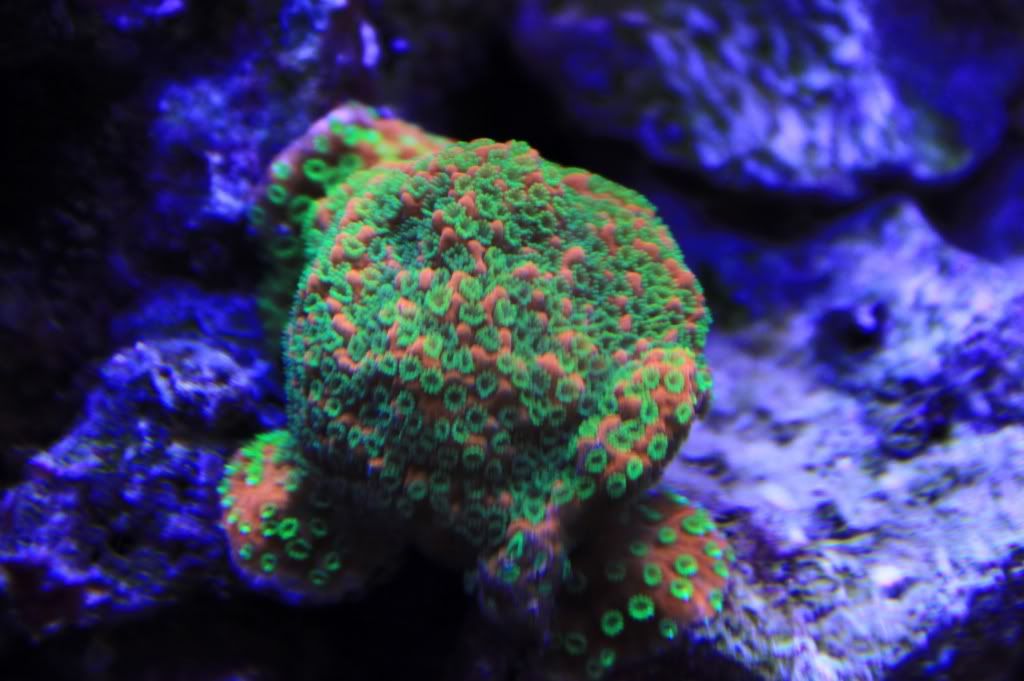 Monti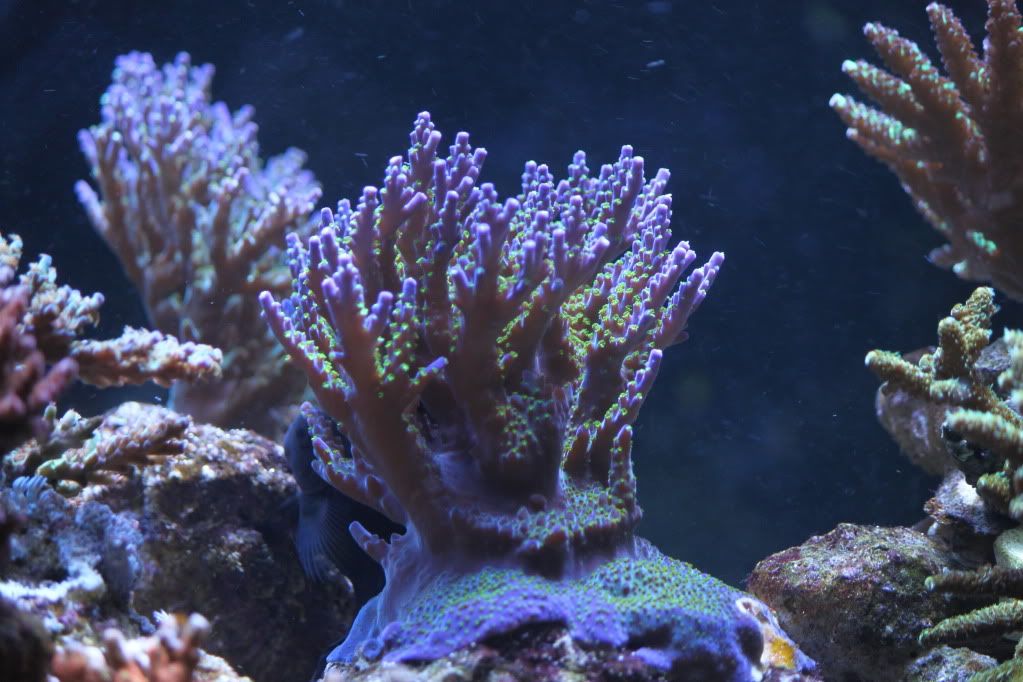 Bonsai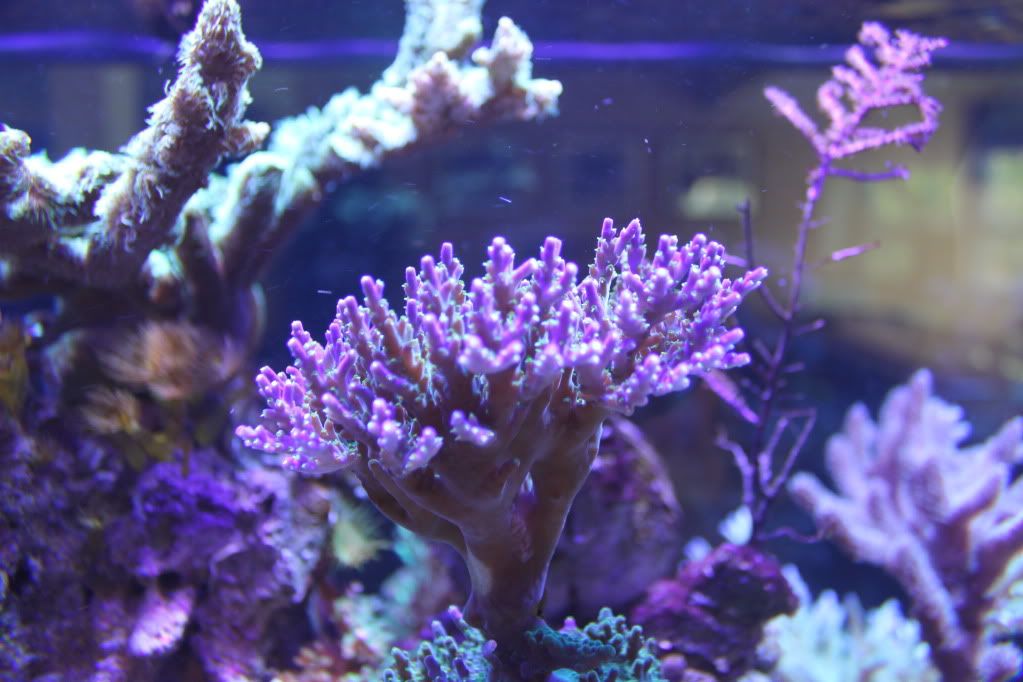 Purple Valida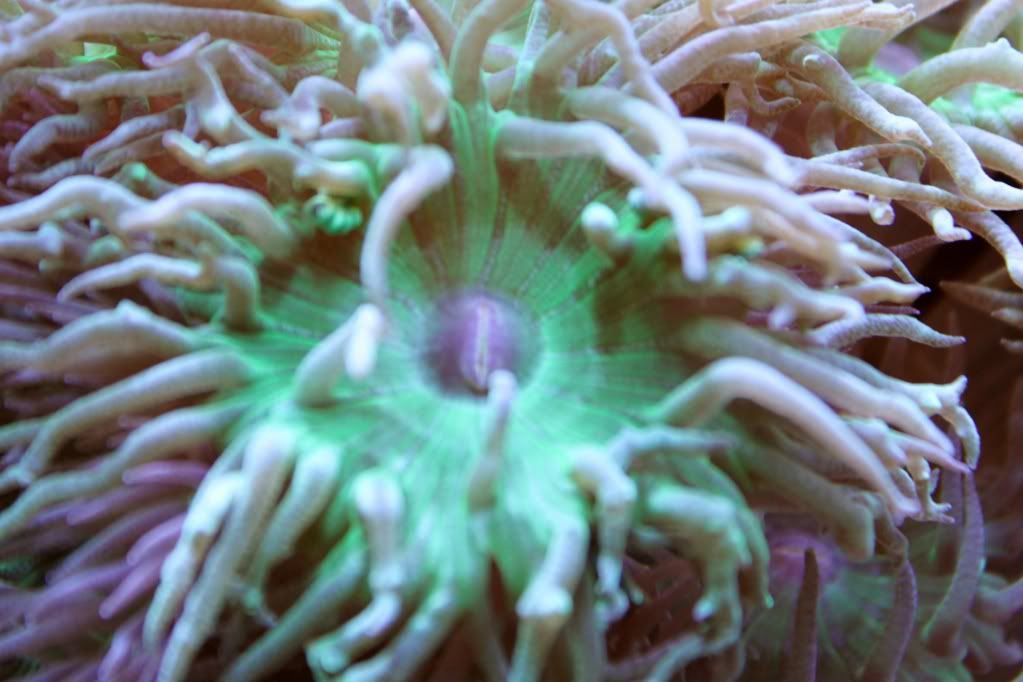 Blasto/Whisker Coral – My favorite coral.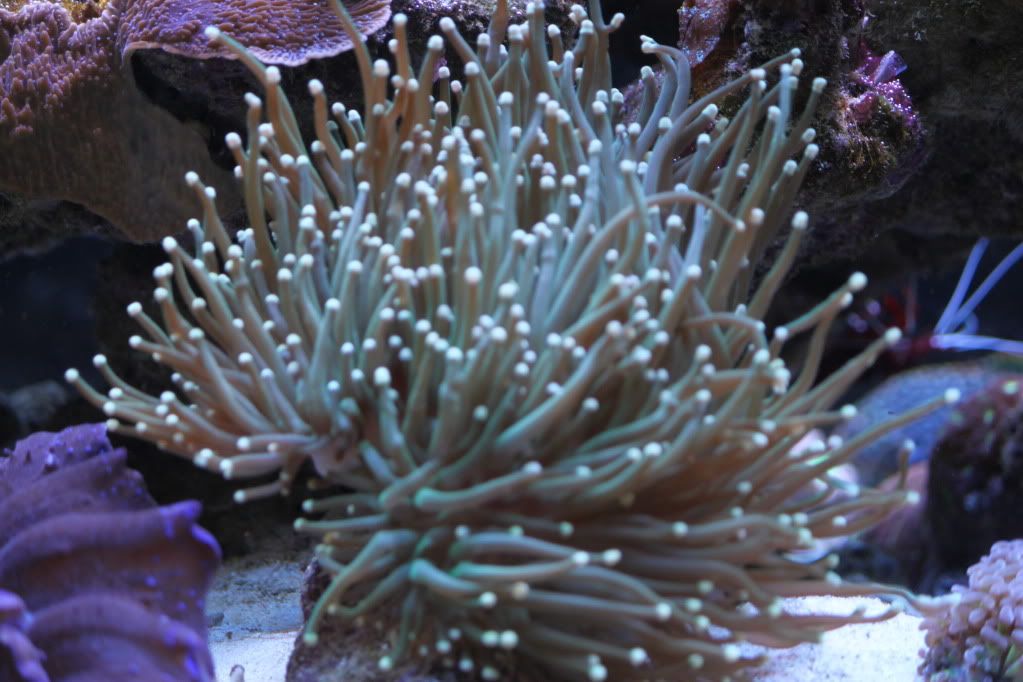 Aussie Torch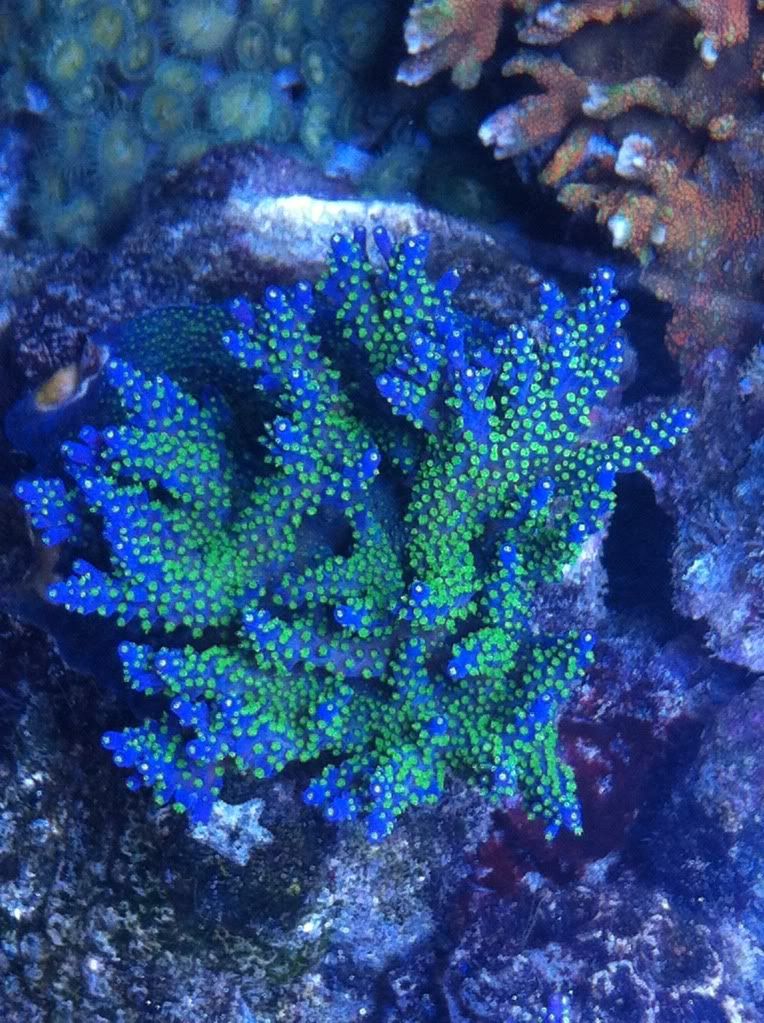 Top View Bonsai
Flame Tip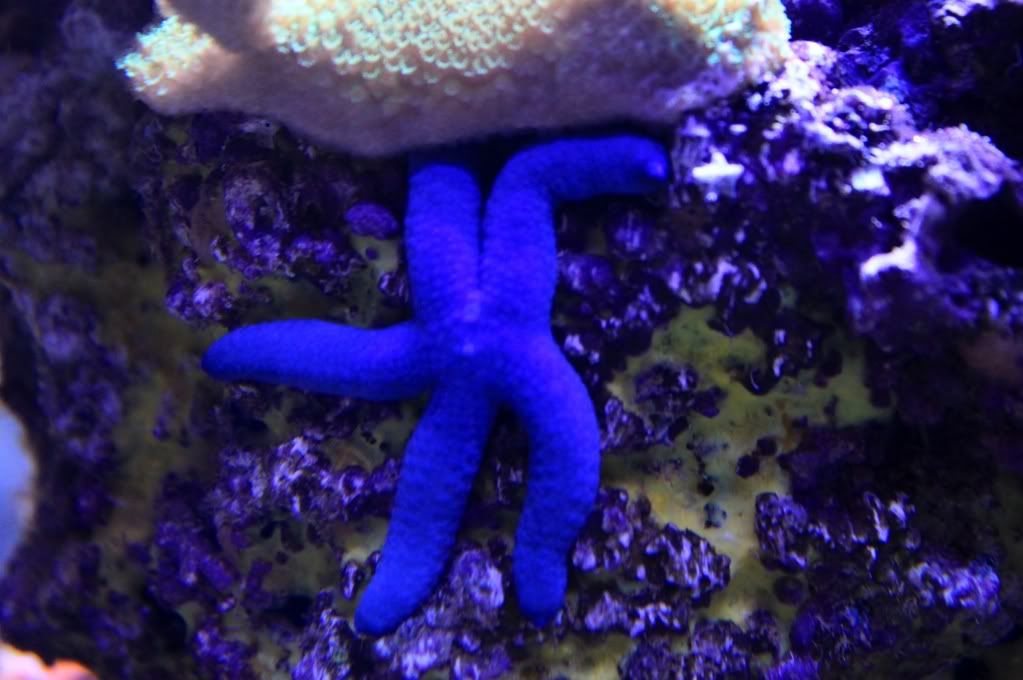 Starfish munching on the yellow sponge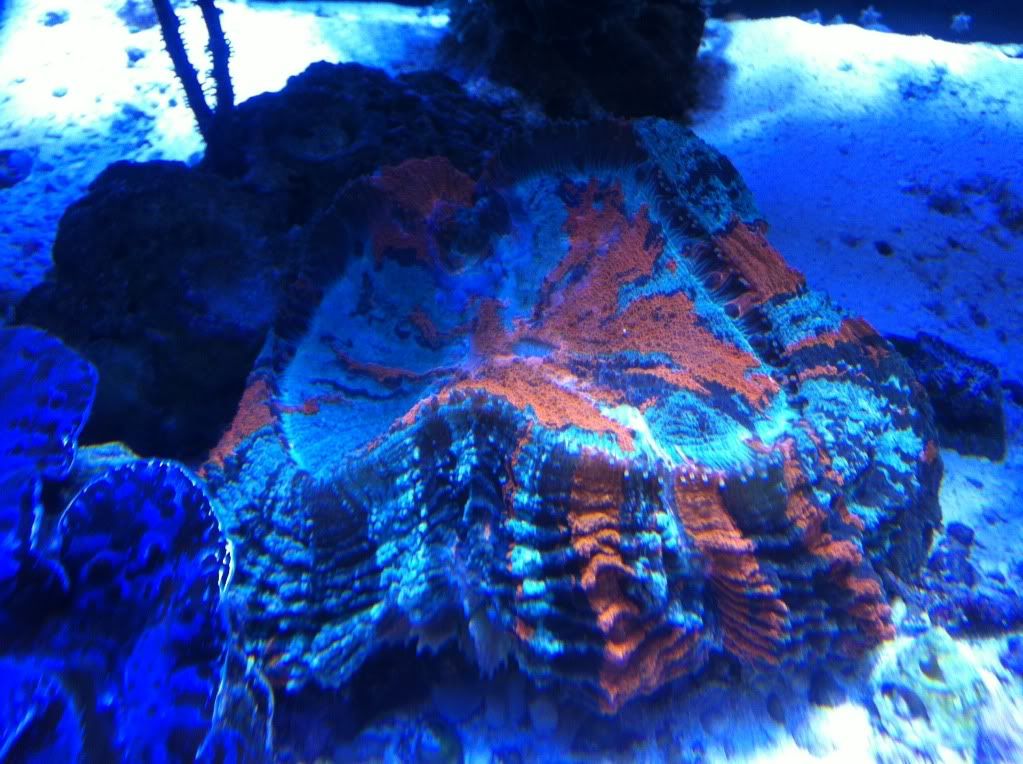 Meat Coral – Currently in rehabilitation from abuse at Rodner Aquarium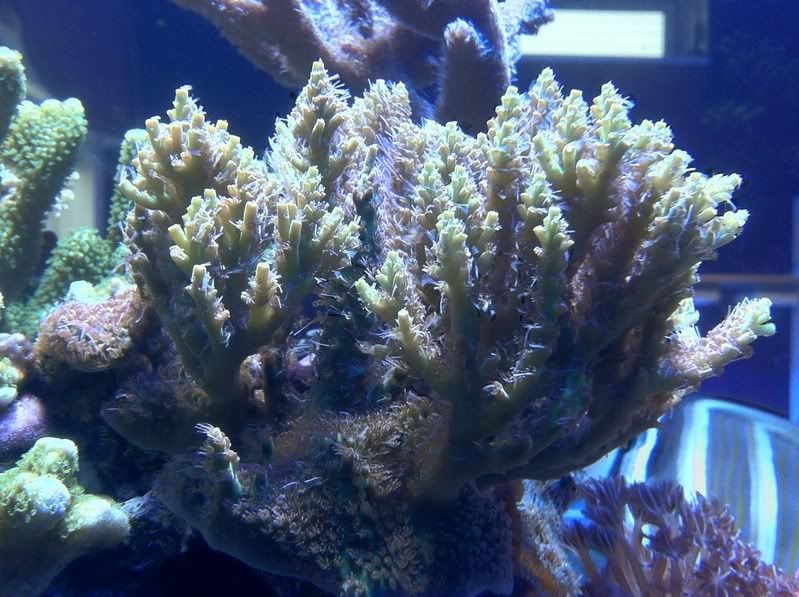 Pink Lemonade
The hardest part of the hobby to me is the pests particularly the acro eating flatworms. Absolutely a nightmare to get rid of once you have them in your tank. Personally I think dipping and quarantine of coral is more important than fish. Although fish should also be quarantined. My tank currently has red bugs which don't appear to be hurting anything so I have not killed them. I do not want to run the risk of killing my shrimp.
Finally, I wanted to thank the DVRC community which I personally find to be a great group of people. My favorite part of the club is the ability to trade corals with other members proliferating the particular coral across our membership and giving the member a "lifeboat" should a disaster happen in the future. I like the idea of a quarterly mini-swap where we can post corals available and then meet in one location to trade them.
Please send your nominations for Tank of the 3rd Quarter to the Board of Directors. Nominations will be taken in July, voting will occur in August.